Facebook is the largest social network in Vietnam.
However, it is also the social network has the most problems.
Sometimes we make friends with unfamiliar strangers, which will lead to redundancy.
Do not know where you are, where you are virtual and you want to filter your friends.
Specifically, filter out non-Facebook friends.
This tutorial is asking for permission to share with you a great Extension.
It can help you perform filtering tasks very fast.
In addition to filtering you out, it also has many other nice features.
However, we will learn about filtering non-interacting friends first!
Guide to filter non-interactive friends on Facebook
Let me first glance at the advantages of filtering friends, especially filtering non-interactive friends.
In the online business and in how daily life will affect.
You should learn the benefits of filtering friends on Facebook.
Why should you filter out people you do not interact with?
You will improve the quality of the bulletin board and will see less news from strangers.

Limit bad people abuse to track and hack nick.

Help you have a clean and quality friend list.

Help you have potential interactive friends for your Online Business or Virtual Living.

The most important thing is

the

higher

Facebook security

.
Guide to filter non-interactive friends on Facebook
On the main issue, I would like to introduce you a utility (Extension) of the Chrome browser called
Multiple Tools for Facebook
.
This gadget has many functions to help you manage Facebook better and the good news is that it's
free
.
Visit the link below to install the add-on for the Chrome browser.
Click the
Add to Chrome
button
to install the add-on for your browser.
After installation you will see a blue icon on the right of the browser.
Click on it and select
Facebook Scanner
to use Facebook scanning.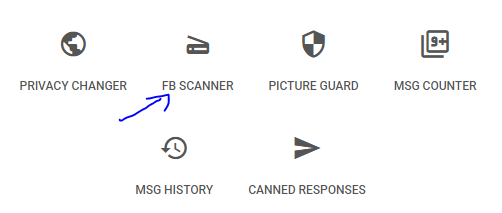 You will be redirected to the interface of a web page.
Now look in the right corner and select
Interation Scanner.
Click
Interaction Scanner
.
You will see the interface as above.
Now click nust
START SCANNING
and wait for the program to run.
After the program finishes, you will see a list of non-interactive friends as shown above.
Now you can filter friends by checking the top box (X box) to
select all.
Finally press the
Bye Bye
button
to cancel the series with them.
This program is free to develop and has a lot of features or in addition to filtering non-interactive friends.
You can find out more when using offline !!!